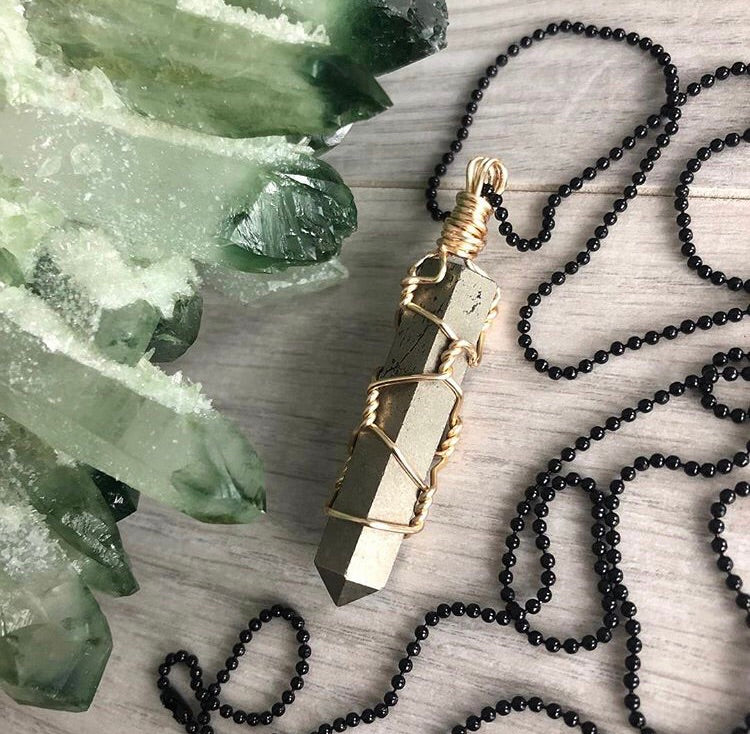 Pyrite wire wrapped pendant on black chain
Regular price $23.00 Sale
THIS ITEM IS MADE TO ORDER THEREFORE THE ITEM YOU RECEIVE MAY DIFFER SLIGHTLY IN SIZE AND SHAPE THAN THE ITEM PICTURED.
If you prefer Gold, rose gold or black wire, please specify in the special instructions box.
*Please allow for a minimum 5-7 business days to process made to order products before being shipped.*
Pyrite is a grounding stone that helps you focus with confidence, which guides you to believe the things you desire will become reality. Stimulating the second and third Chakras, Pyrite enhances strength of mind and willpower. Pyrite is also considered to be lucky, attracting wealth and abundance.
Pyrite protects both environment and you from negative energy, as well as from environmental pollutants. Add Pyrite to your collection, the simple recipe for good luck, happiness and success.

Stone: Approximately 1.5-1.75" x .3-.5" (38-45mm x 7 -13mm
Chain: Black ball chain 1.5mm
Material: Iron (Lead and Nickel safe)
Chain Length: 32" (81.2cm)
Wire: Light gold coloured copper and brass with a tarnish resistant coating.  
Weight: Approximately 12g