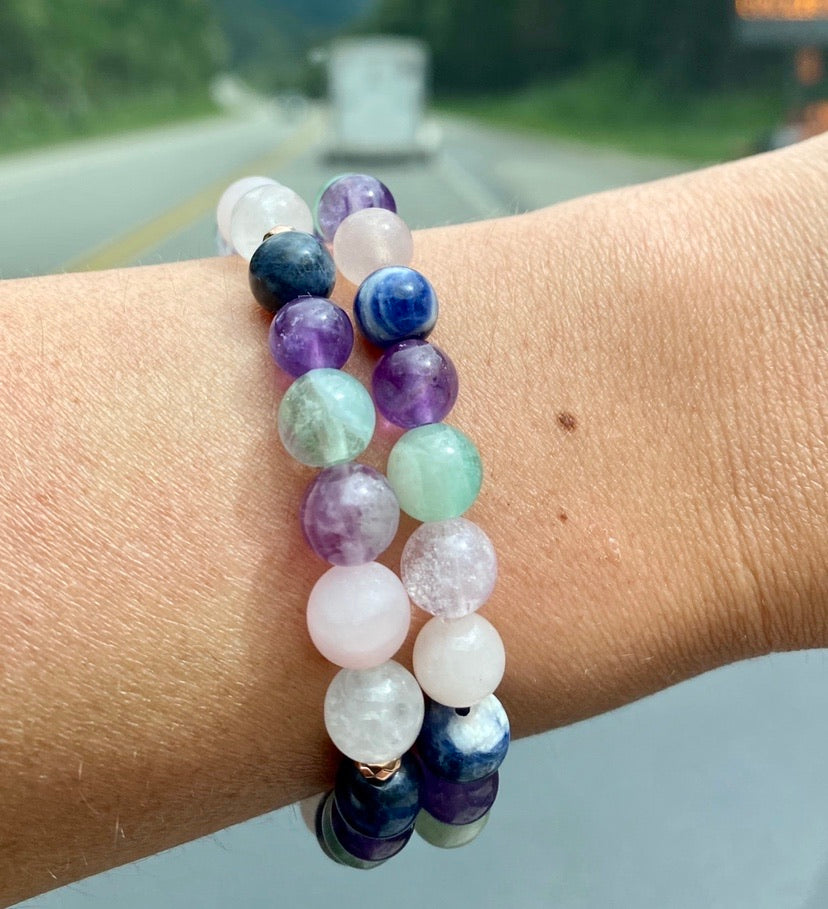 Anxiety & Depression Relief Intention Bracelet
Regular price $25.00 Sale
THIS LISTING IS FOR 1 BRACELET SIMILAR TO THOSE PICTURED.
Please allow for a minimum of 5 to 7 days processing on this item prior to it being shipped.
These bracelets are made with the intention to support you through anxiety, panic attacks and depression. The soothing energy of the stones provide comfort and support during difficult times. It can reduce stress, encourage self care and assist one in creating inner peace.
Sodalite- Brings emotional balance and calms panic attacks while self-esteem, self-acceptance and self-trust.
Amethyst- Soothes your mind of any worries, stress or tension while helping to remove any mental distractions or clutter.
Green Fluorite- A gentle healer. Detoxifies and heals all chakras. Dispels negative energy especially from the environment. Keeps you on track and focused while enhancing personal growth and insight.
Purple Fluorite- Increases self confidence and dexterity while protecting you from manipulation and negative thoughts.
Rose Quartz- Purifies and opens the heart on all levels amplifying self love, love, deep inner healing and feelings of peace.
Left bracelet only:
Clear Quartz- A master healer. Amplifies energy by absorbing, storing, releasing, and regulating it. Aids in concentration and memory.
Hematite- A grounding stone! Emits balance, stability and resilience
Spacers: Rose Gold Hematite
Bead size: 8mm 
Weight: approximately 18g 
Size: Customizable 
Please contact us with any questions or inquiries. The Item you receive may differ slightly from the item pictured. 
YOU WILL RECEIVE 1 ANXIETY BRACELET SIMILAR TO THOSE PICTURED. The Item you receive may differ slightly from the item pictured.