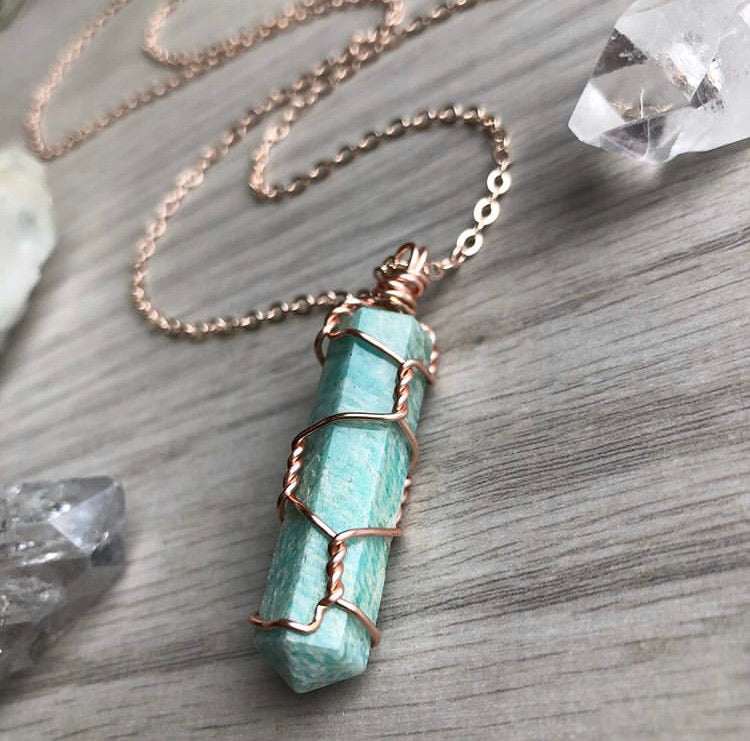 Amazonite wire wrapped crystal necklace
Regular price $0.00 $27.00 Sale
THIS ITEM IS MADE TO ORDER AND THEREFORE EACH STONE VARIES SLIGHTLY IN SIZE AND APPEARANCE. Please indicate if you prefer a different chain/wire colour (Rose gold, black, gold). 
*Please allow for a minimum 5-7 business days to process made to order products before being shipped.*
Amazonite is a strong and empowering stone to help guide you through life. It's the stone of truth and courage. Once you have this stone in your life, you can expect to be empowered by the truth. You can live on your own terms and just shrug off any fears or worries that you have. Amazonite is a calming stone that can help bring clarity of the mind and is helpful if you have something you want to manifest in your life. It's referred to as the Stone of Success and Abundance as when you have this stone in your possession you will be attracting good fortune and good luck. Amazonite can help inspire those looking to enhance their creative or artistic pursuits.
Stone: Approximately 1.5-1.75" x .3-.5" (38-45mm x 7 -13mm)
Chain: Rose gold plated iron 2.5mm x 3.5mm soldered links. Nickel and lead free.
Length 32"
Wire: Rose gold coloured sterling silver plated over copper and brass with a tarnish resistant coating.  
Weight including chain: 18.9 g